Dr Stuart Lorimer
MBChB, MRCPsych

Consultant Psychiatrist and Senior Gender Specialist
GMC no. 4037600
I am a Consultant Psychiatrist and specialist gender clinician, heading up GenderCare and continuing to work part-time in the NHS.
My preferred pronouns are he/him/his.
I graduated from University of Aberdeen Medical School in 1993, with a Distinction in Psychiatry. After completing my general medical and surgical house jobs, I moved to Edinburgh for postgraduate training in Psychiatry, gaining both parts of my Membership of the Royal College of Psychiatrists (MRCPsych) degree in 1998, including training in psychotherapy. I also developed research interests in stigma and LGBTQ issues.
In 2001, I moved to London to advance my training to Consultant level. In 2005, I obtained my Certificate of Completion of Specialist Training (CCST) in both General Adult and Liaison Psychiatry. Having always enjoyed working alongside medical and surgical colleagues, I became curious about processes of gender transition as managed within the NHS.
I approached Charing Cross Gender Identity Clinic (CX GIC) and began there in 2002. Initially locum, I was made a permanent Consultant in 2007. In total, I worked for CX GIC for almost two decades.
In early 2020, following the General Medical Council's advice in response to the COVID-19 pandemic, I began carrying out remote assessments via secure encrypted video. This in turn enabled me to switch my focus to the newer gender services that had emerged from and were rooted in primary or LGBTQ-centred care.
In September 2020, I handed in my notice with CX GIC and began working for the Welsh Gender Service (WGS) at Cardiff and Vale University Health Service.
In April 2021, I started working for the TransPlus gender dysphoria service at 56 Dean Street, London.
I am interested in engagement with the wider binary and non-binary trans community and have represented gender services in a number of arenas, including the Department of Health Sexual Orientation & Gender Identity Advisory Group (SOGIAG), the Parliamentary Forum on Gender Variance and various NHS England workshops and consultation events.
I have presented at events hosted by the World Professional Association for Transgender Health (WPATH), the European Professional Association for Transgender Health (EPATH), Greater London Authority, the Gay & Lesbian Association of Doctors & Dentists, Equality Ireland, the LGBT Health Summit, TG10, Trans London, FTM London, The Gender Trust and MORF at the LGBT Foundation, Manchester.
I am a member of WPATH, EPATH and the British Association of Gender Identity Specialists (BAGIS), where I am a regular contributor to the Council.
I am listed by the Gender Recognition Panel as a specialist approved to provide GRC reports and by the Royal College of Psychiatrists as a member with special interest and experience in gender dysphoria.
I have contributed a chapter on the history of CX GIC to Christine Burns' essay anthology, Trans Britain: Our Long Journey from the Shadows and I wrote the foreword to Ben Vincent's Transgender Health: A Practitioner's Guide to Binary and Non-Binary Trans Patient Care.
I am an occasional columnist for the Huffington Post.
I have taken part in a number of radio and television documentaries on the subject of gender dysphoria, and advised EastEnders on related matters.

In 2009, I was interviewed by equality and diversity specialist and campaigner Christine Burns, for her Just Plain Sense podcast series.

Listen to the podcast.
In 2015, I was privileged to be included in The Independent on Sunday's Rainbow List of the most influential LGBTI people in the UK.
The Independent on Sunday Rainbow List
I was nominated, in the Trans Ally category, for the 2016 Sparkle National Transgender Awards.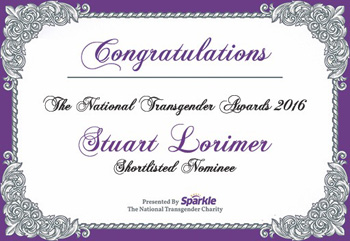 CLICK HERE to read my brochure entitled Using GenderCare: Dr Lorimer