Dr Richard Quinton MA MD, FRCP(E)

Consultant Endocrinologist. GMC no 3343120.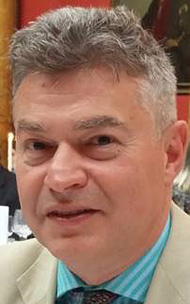 I have been affiliated as endocrinologist to the Northern Region Gender Dysphoria Service (NRGDS) since 2010. My clinical and research interests going back 25 years have focused on reproductive endocrinology, including disorders of male and female puberty, fertility and sex hormone secretion. This background that gave me a head start when I came to the field of gender care, with skills acquired prescribing hormones to cis-gendered hypogonadal clients informing my practice in gender care and vice versa.

I lecture widely across all areas of reproductive endocrinology at national and international level and, for the past 10 years, have directed and helped to deliver training in this area, including gender care, to UK and international doctors in training as the Society for Endocrinology's annual Endocrine Academy in Birmingham. On behalf of the Society, I have also regularly engaged with the media in relation to articles, programmes about sex hormones and theior deficiency and replacement, including Sunday Times, New York Times, Daily telegraph, Daily Mail, BBC World, BBC2, Radio 4 and Radio Newcastle.

I have been a Consultant Endocrinologist and university Senior Lecturer in Newcastle-upon-Tyne since 1999 and have published nearly 200 academic papers, establishing Newcastle as an internationally recognised centre for rare disorders of puberty and fertility. I working closely with colleagues in child health, gynaecology and andrology as well as Gender and have just drafted UK guidelines for the management of male hypogonadism on behalf of the Society for Endocrinology, which are currently under review.

I am Treasurer to the Section of Endocrinology of UEMS (Union Européenne des Médicins Spécialistes) and its representative on the Board of the European Board Exam in Endocrinology, Diabetes & Metabolism. I qualified from Cambridge university in 1988 and trained mostly at University College London Hospitals, completing an MD thesis on hypogonadotropic hypogonadism, for which I was awarded Cambridge University's Ralph Noble prize in the Neurosciences.

Please contact my practice manager Jason Batchelor via email at

gender.north@protonmail.com

if you would like to arrange an appointment. However, please also note that, as the private consulting rooms at Newcastle Hospitals are currently mothballed due to Covid-19 pandemic, this will perforce be a video-consultation until circumstances improve definitively.